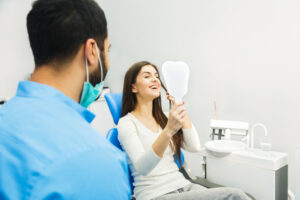 If you're searching for an orthodontic office near me in Nevada, look no further than Legendary Smiles! We have several locations throughout the state, making it easy for you to find an orthodontist near you.
Here are the cities where we have orthodontic offices near you:
Whether you need braces near me, Invisalign near me, or other
orthodontic treatments near me
, our experienced and friendly team is here to help. We understand that choosing an orthodontist is an important decision, which is why we are dedicated to providing exceptional care to each and every one of our patients.
At Legendary Smiles, we believe that everyone deserves a smile they can be proud of. That's why we offer a wide range of orthodontic services, including traditional metal braces, clear braces, and Invisalign. We also offer orthodontic treatment for children, teens, and adults, so no matter your age, we can help you achieve the smile you've always wanted.
When you visit one of our orthodontic offices near you, you can expect personalized care and attention from our team. We will work with you to create a customized treatment plan that fits your unique needs and goals. Our goal is to make your orthodontic treatment as comfortable and convenient as possible.
So if you're looking for an orthodontic office near me in Nevada, choose Legendary Smiles. We have the expertise, experience, and passion to help you achieve a legendary smile. Contact us today to schedule your appointment and take the first step towards the smile of your dreams!